is
getting older, so I do have more time on my hands. Because of that, I'm going to try and pursue my dream of becoming a writer; and I'm going to start here, by publishing "A snap of life" in 10 different "chapters".
Chapter One: Moving Out
So, I've not posted here for a long, long time. I've just been so busy! Although I've not had any more children, Rebecca is growing up fast. But, she
I've not been around for the past few days to update, because I've been on a lovely vacation with Owen and Rebecca. No, no pictures of that.. its staying private ;)
I do have updates on two families in the 'hood though.. Because there are a lot of pictures to follow, I think I'll put this under a cut.
(
Click here to read the rest of my update!
Collapse
)
(
Click here to read the rest of my update!
Collapse
)
That was at their wedding, a few months before Amy gave birth to twins Charlotte and Joshua, at the tender age of 17. They later had Stephanie, and just today, Amy gave birth to more twins, named Zara and Elliot.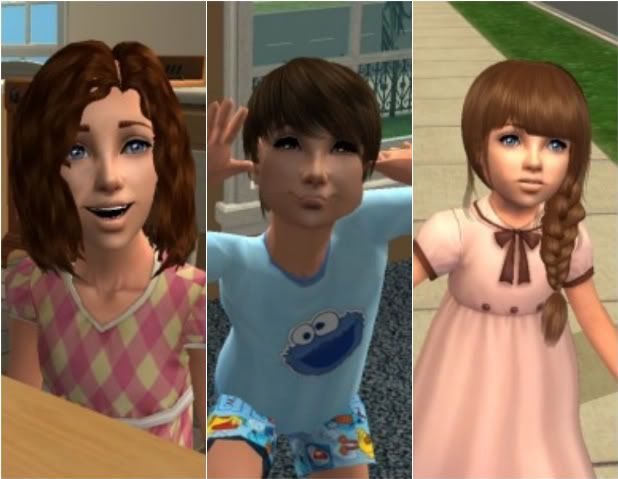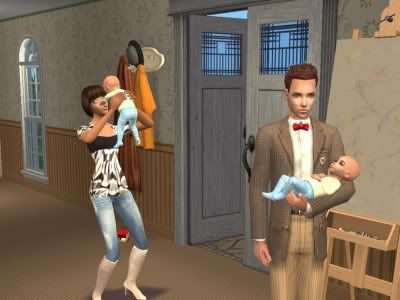 Zara in Amy's arms, Elliot in Andrew's.
The family used to live in a mansion opposite the sea, but recently moved to the "house on the hill", to suit their financial status.
Look at the size of it!!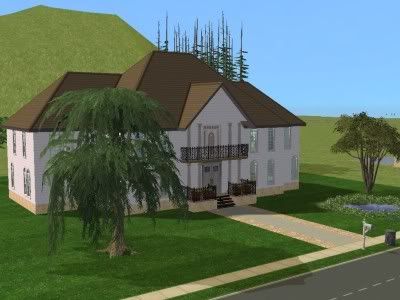 Now, I move on to the Potter Family. Beau Potter was adopted by second generation Megan, and has just grown into an adult, and recently married his sweetheart Jasmine.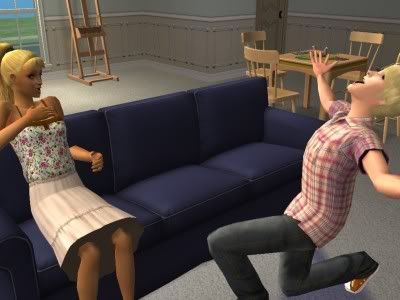 Beau knew how horrible it was to live in a care home with no parents to speak of, and so had the great urge to adopt children. Jasmine suffered from polycystic ovaries, and so had severe problems with conceiving.. First, the couple adopted Rosie as a toddler. She's a teen
already!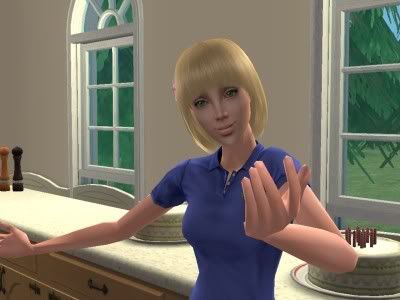 Next, they adopted baby Mimi, now a child.
Miraculously, Jasmine fell pregnant, and to say she gained weight during her pregnancy is an understatement: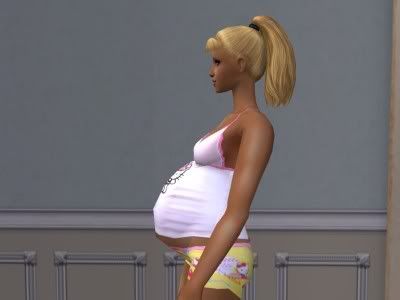 She later gave birth to baby Jack, who is now best friends with the earlier mentioned Charlotte and Joshua Jones.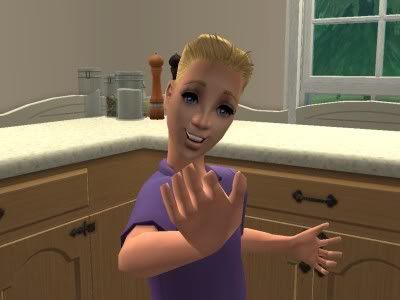 And finally, there was a big birthday bash as Jessica Rose Harris grew up into an adult. She lost her dad a few months back, and had taken over the role of mother as Emma recovered from the loss of her husband. Now, she's out in the big bad world.. and has an unhealthy interest in magic.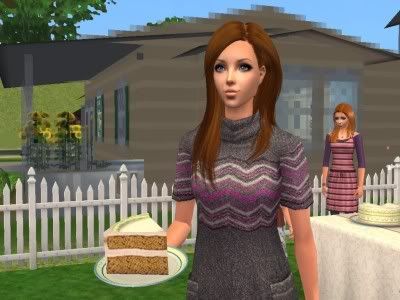 PS: Lookies! I found a picture of me, Jonah (toddlers), Korey, Alexis (children) and our parents from yeeeears ago! How cute were we?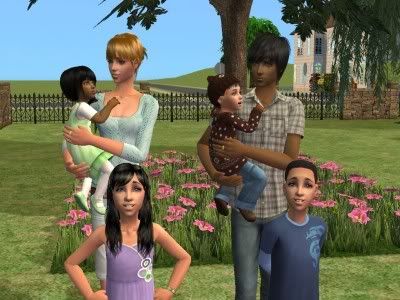 Hey guys!
Today, I bring you happier news than last time. I'm here to announce two new births.. okay, so they happened a while ago, but I just managed to snap pictures a few days ago. Born to Aaron Potter (nee Findlater), meet Monroe and Rocky:
(
Read more...
Collapse
)
Thats all for now.. I'll be back later with more pictures.. we've had a baby boom recently!
Hello,
That little slideshow above is a montage of my parents' - Harriet and James Thompson's - lives. Sadly, they passed away last week after long, prosperous lives. They've left behind three sons (Korey, Jonah and Aiden) and two daughters (Alexis, and myself), and twelve grandchildren with more on the way. Mom worked as a Hand of Poseidon and dad as a Rock God, before they both retired.
They died just before my younger brother Aiden got married, but he bravely soldiered on, and married his long-term girlfriend Genesis: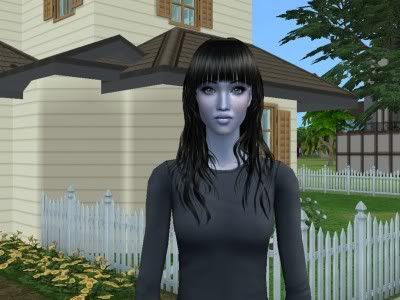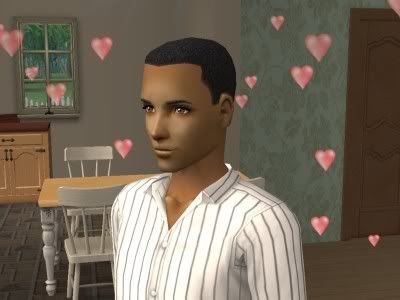 On a happier note, we discovered that Gen was carrying their first child.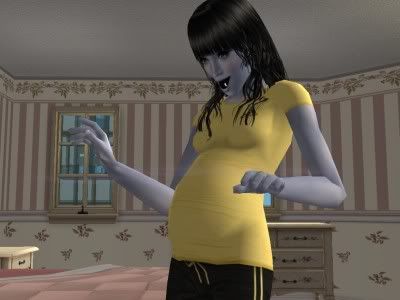 That means all five of my parents offspring are married - although they only witnessed four in person, we like to believe they were there in spirit.
RIP Mom and Dad, I love you.
Today, I post with sadness. I've just been told that at 1.30 am this morning, Evie Mae & Steven Miller passed away following a large house fire in their two-storey home. They were still really young; barely in their mid-fourties, far too young to die. Their toddler Brooke was upstairs sleeping in her crib whilst her parents were cooking downstairs.. the oven caught on fire, and in the process of trying to extinguish the expanding flames, both Evie Mae and Steven perished. Fire fighters later rescued a sobbing Brooke, and placed her into the arms of waiting Summer.
Top: Evie Mae & Steven with their newborn baby Brooke
Bottom: A family portrait of Evie Mae, Steven, Brooke and twins Summer and Rose.
I
Pictured above is Summer as an adult, not long after graduating from college with her sweetheart George. She recently got engaged (which is also pictured), and married - pictures from her wedding haven't reached me yet. After the death of their parents, Rose and Summer decided that they would raise Brooke on their own, rather than put her in a care home. At the moment, Summer and George are raising her, while they try for their own baby.
I've also just recieved news about Jamie Harris, who died after contracting pneumonia last week. His wife Emma is the eldest daughter of Harley Potter, who is one of the original ten, and the eldest of generation three.
Top: Jamie listens to his young babies kicking in wife Emma's womb
Bottom: Jamie & Emma with Jessica Rose (child) and twins Felicity and Celeste.

He leaves behind three teenage girls - Jessica Rose, Felicity, and Celeste - and one toddler, Imogen, all of whom are now cared for by Emma.

Hello...
I think a good starting point for this journal would be showing you the neighbourhood that I live in, and explaining it's heritage.
Way back in the day, young couple Jessica and Liam Potter moved into a new home in a totally uninhabited suburb of Veronaville.
They dreamed of a large family. Very, very large. They wanted a minimum of ten children before they died.. and that, they managed. They first had triplets Harley, Harriet (my mum), and Harlow, then Evie Mae, Archie, Alfie, their second set of triplets Benjamin, Megan and Madeleine, and finally, Amy when they were in their late fifties. Each of these ten children of course went on to produce their own offspring with their partners, and those children (lets call them the third generation) are now moving out and having their own children. I'm one of that third generation, and my baby Rebecca is a member of the fourth generation.
The ten children were born that far apart that some of generation two (my parent's generation) had grandchildren being born when others were just having their own babies. Even now, Evie Mae Miller had her baby Brooke not too long ago (generation three), I've just had Rebecca, who is a member of generation four, and Amelie Harrison has had her three children.. who are all generation five.
If this made absolutely no sense to you, then you can view our family tree on a site called Family Echo and try to fathom some understanding yourself.

http://familyecho.com/?p=NBC5S&c=2uxcflov00&f=914121180931989388
I got a friend to take an ariel picture of the hood, and I edited it so that I can tell you who lives where. Right. Here goes!
1. The Garcia Family
- Madison Garcia is the only daughter of Benjamin Potter, who lives at house number 15. She lives with her husband and young daughter Anastacia.
2. The Osbourne Family
- Grace is one of three daughters from the late Harlow Smith (nee Potter, who of course doesn't have a house on the image). Grace lives with her husband Logan, her adopted daughter Inaya, and biological daughter Paige.
3. The Smith Family
- Thomas is Grace's (House 2) twin. He lives with his wife Makayla, adopted son and biological daughter Niamh.
4. The Martinez Family
- Alexis is my big sister. She lives with her artist husband Christian, twin daughters Lola and Lily, and son Theo.


5.
Noone knows this family.. they keep themselves to themselves, to the extent that we don't even know their names. Hmm.. maybe I'll find out in the future.


6. The Harrison Family
- Amelie Harrison is one of the oldest of the fourth generation (the one after me). She fell pregnant young, and had a young daughter Sophia Ruby with her sweetheart Blake, before adopting young Evelyn and later having another son, Ethan. Amelie is the daughter of Abigail Winters (nee Smith), who lives in house number 10.
7. The Hamilton Family
- Alice (youngest sister of Grace, Thomas and Abigail) also fell pregnant very young. She was young when her parents died, and went off the rails slightly.. she lives with her husband Bradley, and daughters Poppy, Phoebe, Jade and son Ashton.
8. The Potter Family
- One of very few familys that actually still have the original family name. Jacob is the only son of the late Harley Potter (who doesn't have a house on the map), and is dad to five children (Jayden, Katelyn, Zachary, Elijah and Isaac) with wife Hayleigh.

9. The Potter-Archer Family
- Maddox is the only surviving child of Alfie Potter, and is the "only gay in the village", so to speak. He lives with his husband Aaron, and they are in the process of adoption.

10. The Winters Family
- Abigail is the eldest daughter of the late Harlow Smith, who has been mentioned previously. She has six children, five of whom live at home. Amelie (Harrison, above) has moved out, and then there is Aaliyah, Claudia, Emily Faith, Isabella Hope and Ryleigh. All are with her game designer hubby, Jake.
11. My house! The Wommack Family
- I currently live with my husband Owen and young daughter Rebecca.
12. The Thompson Family
- My twin brother Jonah lives in an apartment in this block, with his wife Samantha and young son Harry. Sam is also pregnant with a new arrival, who I'm sure you'll hear about in due course.
13. The Thompson Family
- My big brother Korey lives in this house. He opened his first business at the tender age of 18 (with a little help from our parents), and has made himself a vast fortune since this. He has the biggest house in the neighbourhood (and probably the largest finances), but boy, does he need it! He lives with his wife Vanessa - who originates from the far east location of Takemizu Village - biological daughter Verity, adopted son Caden, and biological quadruplets Rosemary, Florence, Finley and Owen.

14. The Harris Family -
Emma Harris (nee Potter) is the eldest of our generation. She is the older sister of Jacob Potter (house number 8) and has four children with her late husband Jamie. He died not that long ago, leaving Emma to raise her four daughters - Jessica Rose, Felicity, Celeste and Imogen - alone.

15. The Potter Family
- Benjamin Potter is one of the original ten children from the story above, who has two children with his wife, Margaret. They are both very career-minded, so waited a long time before adopting baby Madison (Garcia, house 1), and having son Oscar biologically.
16. The Potter Family
- Madeleine is also one of the original ten (and the second of triplets including Benjamin and Megan). She lives with her husband Darren, and five children; Olivia, Dylan, Alexander, Zoe and Matthew. Madeleine's parents (my grandparents) died soon after she got engaged to Darren, and she only agreed to marry him if he took her name; he agreed, because he couldn't bear to lose her.
17. The Thompson Family
-My mum and dad's house! The place where I grew up of course holds a special place in my heart. My parents Harriet and James currently live here with my youngest brother Aiden as he searches for an apartment, partner and job..
18. The Miller Family
- Evie Mae is the fourth of the original ten children, and currently lives with her husband Steven, three daughters Summer, Rose and Brooke, and their pug Lola. She also had quite a lot of spare time after the birth of her last child, and created a website. If you want to find out more about my origins, you can go to her site of
http://www.wix.com/peedie_pixie/eviemaemiller
.
19. The Potter Family
- Megan is the ninth of the original 10 children, and lives in her childhood home. She went to college, and disastrously fell pregnant by her then-boyfriend. She dropped out, moved home, and, unfortunately miscarried.. She then went on to adopt sons Michael and Beau. As the boys were growing up, she met Mark Wilson, and had twin daughters Quinn and Catherine, and daughter Kimberley. Yet more tragedy was to hit her though, as Mark died in a mysterious accident when Megan was at work. She's now raising five children alone.
20. The Jones Family
- Amy Jones (nee Potter) is the tenth of the ten children. She was just 15 when her parents died of old age, and went off the rails. She met Andrew, and she didn't know at that point that he was a very well off entrepreneur. She fell pregnant at 16 with twins Joshua and Charlotte, and moved into Andrew's house around the same time as Megan moved back home. They later went on to have young Stephanie.
And thats it! That took me forever and a day to write out.. I'd better go check on Rebecca. I put her down to sleep about an hour ago, and I think it's about time to wake her up or she'll be up all night. Toodles for now!
Bienvenue!
Hello to anyone out there ;)
I've never been on for all of this blogging/journal stuff, but now that I'm at home more, I think it would be a worthwhile hobby to have. I guess I'd better introduce myself.. I'm Indie Wommack. I used to be a proud Thompson, but I married my sweetheart just a over year ago.
Oh, and I believe some call my type a 'sim', although I have no idea what that is. Just thought I'd throw that out there incase anyone knew what that was..
I can be extremely stubborn if people don't agree with what I say; If I said it, then its obviously the right thing to be done! That picture above is of me and my (believe it or not) twin brother Jonah. He was explaining just what I would face when my little nooboo popped out of my tummy - he already has a little boy called Harry, whilst at that time, I didn't have a child.
That soon changed though, because my beautiful baby girl arrived the next day. Meet Rebecca Wommack:

You can probably guess that she looks nothing like me, but more like her daddy.. unfortunately for her! Hahahaha:

Hmm.. running out of things to say, really. There haven't been many births or deaths in the past day or two (must be a record!), so this will be updated when something exciting happens. I'll leave you with a picture that I absolutely adore from my wedding -

PS: Now you know exactly what both I and Owen look like!